President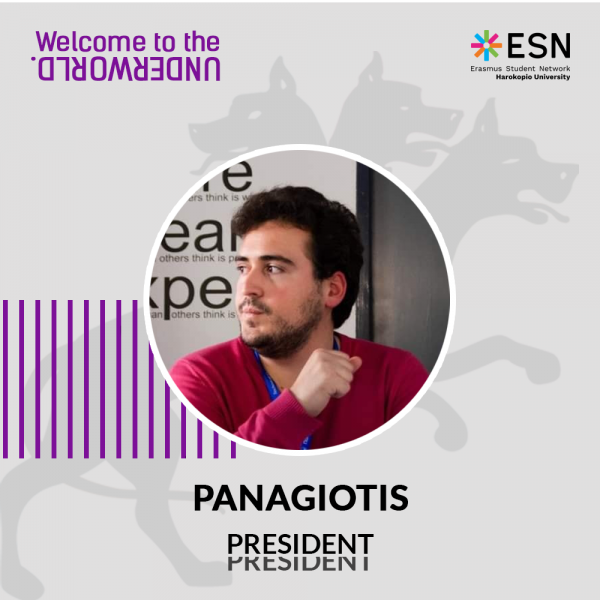 Mr. Panagiotis is a PhD. Candidate and Research Associate in Informatics and Telecommunications. Also, he has been a member of ESN HARO since 2017. His main interests are, apart from his studies, traveling, finding new experiences and gaining knowledge when possible. The main reasons why he joined ESN were to advance the aforementioned interests but also find out how it feels to be a part of a group which provides help to others. Moreover, the opportunities gained from ESN gave him new perspectives about the world we live in. The rush you get from creating something new and making your vision a reality, is intriguing for Panagiotis and can be seen by his involvement in ESN, where challenges are tackled and new things created very often. He is still an active member not only at the local level but also at the National level of ESN Greece providing help through the position of Data Protection Officer.
Related links 
Vice President & Partnership Manager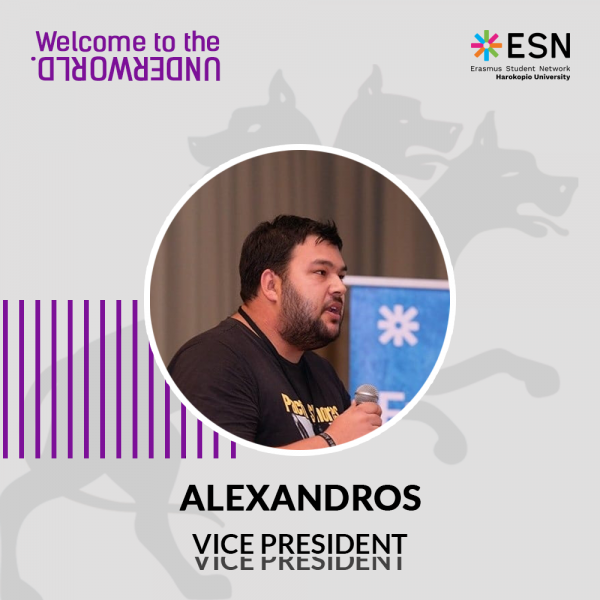 Alexandros Nassos is 24 years old and studies at the Harokopio University of Athens. He comes from Athens and currently is the Vice-President/Partnership of Erasmus Student Network Harokopio University. In addition, he is a member of the Winter National Event Research Team of Erasmus Student Network Greece. He is studying Geography and has been a volunteer of ESN for the past three years. Before he joined the Board, he worked in the field of Sociology and the Greek Sociological Association and as a secretariat at a lawyer's office. Now, he is responsible for the topics of the development and membership of the network, as well as events and training, and all HR related projects and initiatives in the organization. Alexandros is a huge fan of coffee, greek traditional food and sports.
Treasurer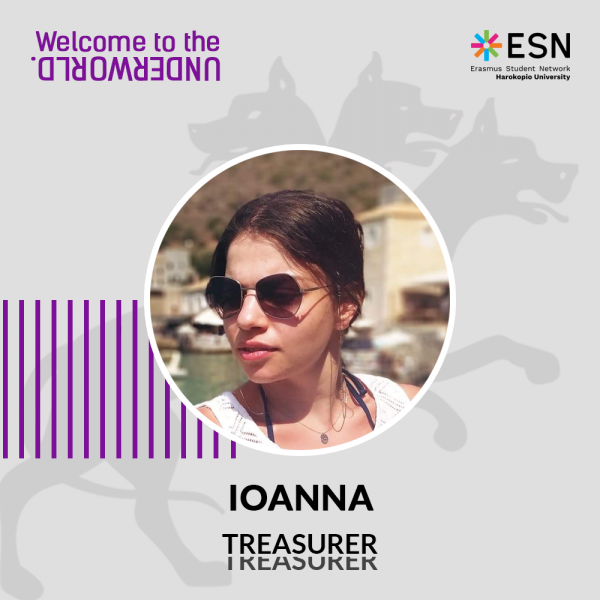 Ioanna Zkeri is an undergraduate student in the Department of Informatics and Telematics at Harokopio University of Athens and, for the last 2 years, he has been the Treasurer of ESN Haro. The biggest experience of her 24 years of life was the Erasmus experience in Lille in December 2017 and that was because she had the opportunity to meet students from all over the world and travel to several European countries such as France, the Netherlands, Belgium and Luxembourg. For her, Erasmus is a life-changing experience. Returning from Lille, she decided to become a member of ESN Haro and had volunteer experience in her hometown, participating in events as well as organizing some events. ESN Haro helped her form true friendships and develop her soft skills. One of her hobbies is swimming from an early age and she considers it a very good exercise for both body and mind.
Web Project Administrator (WPA)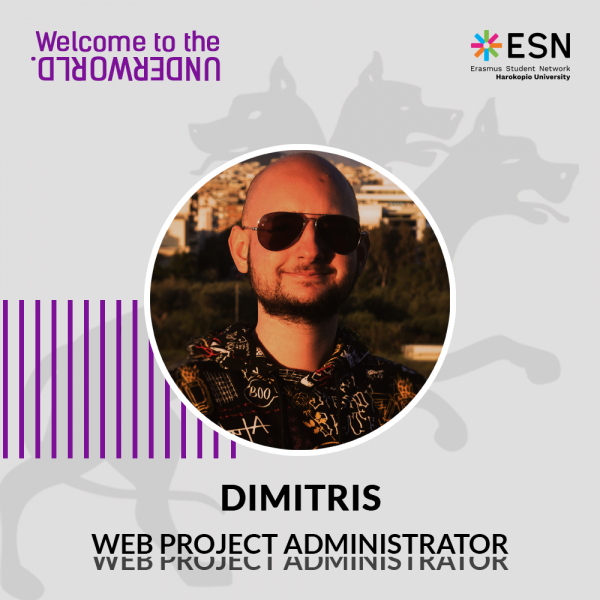 Hello Europe! Dimitrios is 21 years old and he studies psychology at Panteion University.His hobbies are photography, running, and gaming! He is part of ESN for two years and he is currently the Web Project Administrator (WPA) of ESN Haro. Last, but not least he has a very strong personal interest in any issue related to volunteerism, student exchanges, sports, and lifelong learning.
Communication Manager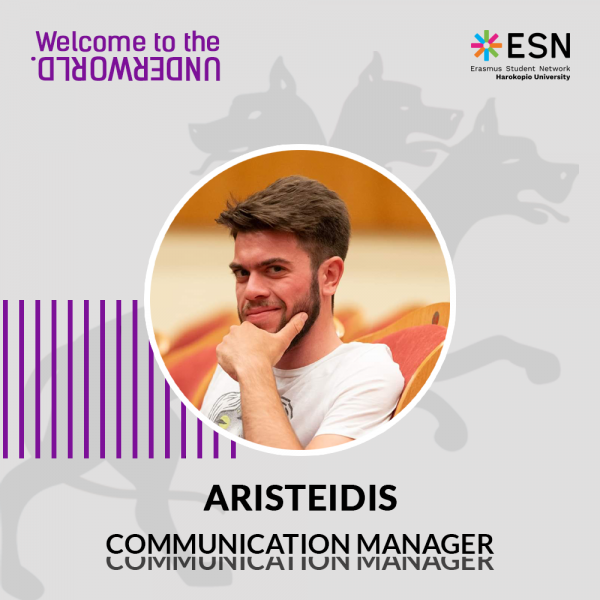 Aristeidis Ntotsikas is 24 years old and studies Physiotherapy. He is a member of ESN Haro since 2019 and currently is the section's Communication Manager. Also, he holds the same position at the National Event of ESN Greece, The Crete Trip.
He has taken part in Erasmus+ Studies in Groningen, Netherlands.
Programme Manager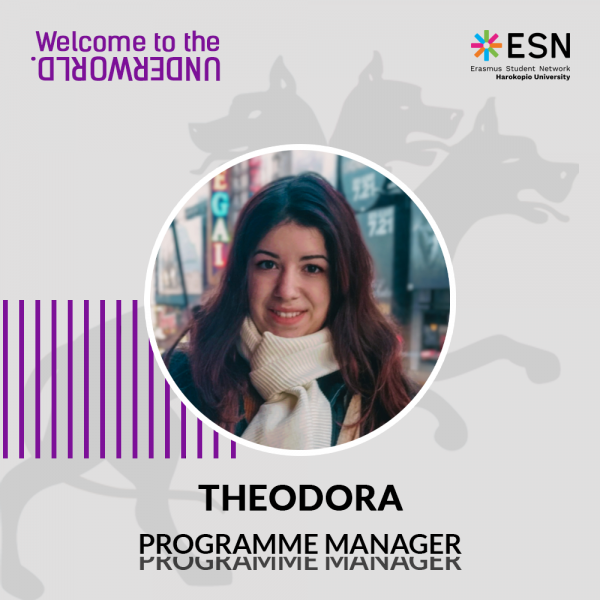 Theodora is 24 years old and studies Informatics and Telecommunications. She has been a member of ESN HARO since October 2019 and currently holds the position of Programme Manager. She has various hobbies, such as photography, travelling, music, anime, and volunteering. Definitely a dog person. Within ESN, she has the opportunity to meet people with the same interests, help students and learn more about its causes/values.